FORCED TO MODE
10. Mai 2024 | 20:00

-

22:00

32,90€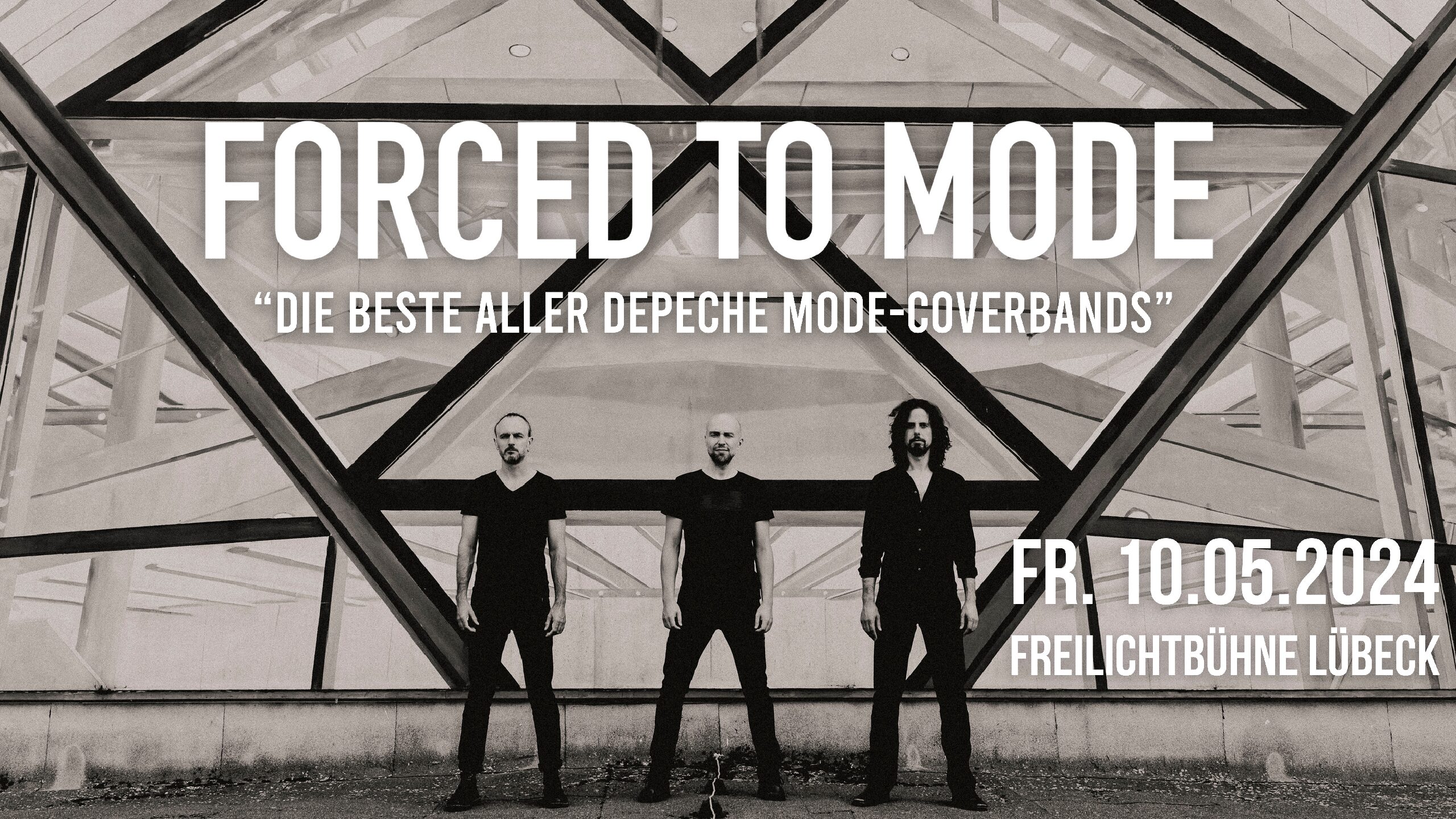 10.05.2024 | FORCED TO MODE
Die weltbeste Depeche Mode-Coverband "Forced To Mode" zum ersten Mal in Lübeck
Media Consult Eventmanagement holt die weltbeste Depeche Mode Coverband erstmals am 10.05.2024 nach Lübeck. Im Rahmen ihrer "The Devotional Tribute To Depeche Mode" Tour kommen die Jungs von Forced to Mode erstmals live auf die Freilichtbühne nach Lübeck und werden dabei nicht nur ihre bestehende sehr große Fan Base begeistern. Auch neue Gäste werden von dem acoustic Sound der Band beeindruckt sein.
Die Reaktionen des Publikums und der Presse, die vielen Konzert-Videos und Live-CDs der Bandsprechen hier eine ganz eindeutige Sprache und titulieren die F2M-Shows als Tribute-Konzerte einer"ganz eigenen Liga". Auch die Fanbase, die sich um Forced To Mode herum aufgebaut hat, ist beachtlich: keine andere Band – außer Depeche Mode selbst – hat im größten deutschsprachigen DM-Forum mehr Aufrufe oder Posts. Forced To Modes eigener YouTube-Kanal hat über 2 Millionen Video-Aufrufe.
Doch es bleibt vor allem die sehr energetische Live-Performance, die "ganz-nah-am-Original-Stimmen" und die perfektionistische Liebe zum Sound-Detail, die die Tribute-Shows F2Ms so einzigartig und unvergesslich machen!
Forced To Mode lassen den Spirit der früheren, ikonischen Depeche Mode-Epochen wieder auferstehen und bringen diesen absolut gekonnt, mit viel Raffinesse in Show und Sound zurück auf die große Bühne. Dabei zählen stetig wechselnde Setlists sowie selten, bisweilen noch nie live gespielte DM-Songs zum großen Credo der Band. Auch mit ihren Motto-Shows (Tour- oder Albenspecials, B-Seiten-Konzerte, Shows mit Sinfonieorchester uvm.) haben sich F2M tief in die Herzen der DM-Fans gespielt.
In über 10 Jahren haben F2M über 330 Konzerte, 2 "acoustic tours" und diverse Jubiläums- und Special-Shows absolviert. Das Repertoire der 3 Musiker aus Berlin umfasst inzwischen über 100 Depeche Mode-Songs und ein Ende ist noch lange nicht in Sicht…
FORCED TO MODE BESETZUNG
Matthias Kahra – Gitarre
Thomas Schernikau – Keyboards
Christian Schottstädt – Gesang
Infos:
Termin: 10.05.2024, 20 Uhr
Einlass: 18:30 Uhr