MAX AND FRIENDS Orchestra

Diese Veranstaltung hat bereits stattgefunden.
MAX AND FRIENDS Orchestra
5. Juni 2021 | 19:00
25€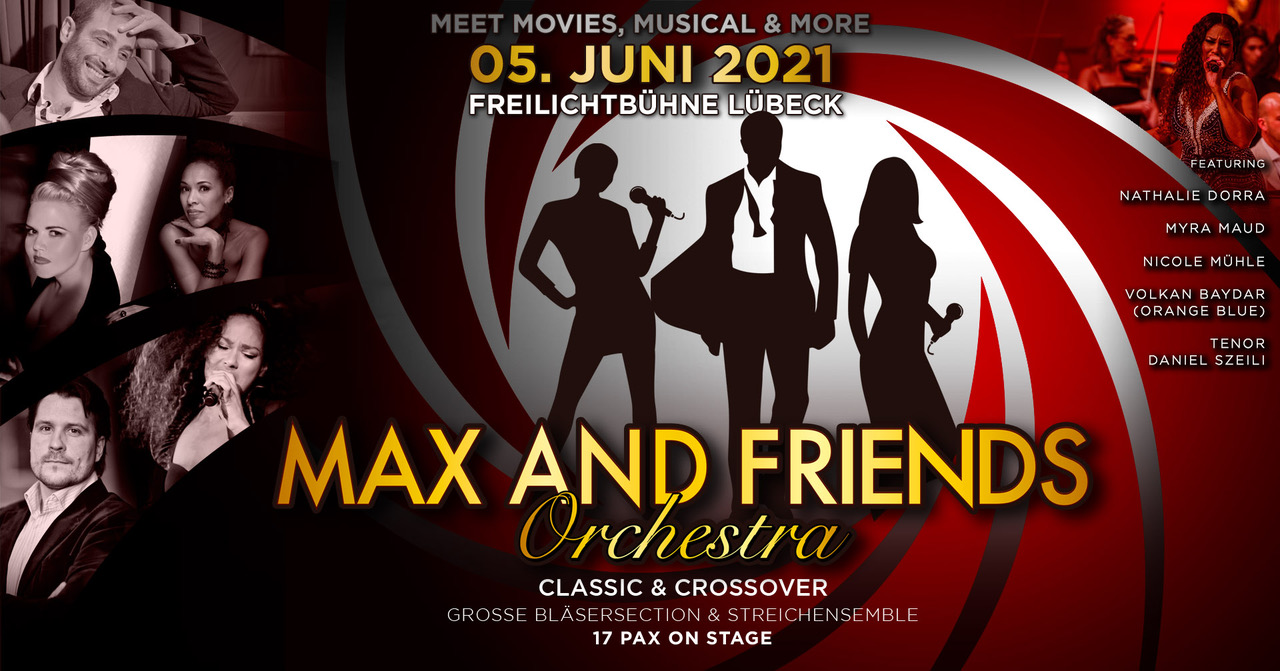 MAX AND FRIENDS
Meet
Musicals, Movies, Classic & Crossover
MAX AND FRIENDS präsentieren Highlights aus der Welt des Musicals von The greatest Showman, Lion King bis Tina Turner, James Bond Songs & andere emotionale Filmmusik, sogar berühmte Arien aus der Welt der Oper & Crossover und wie es einem Amphittheater würdig ist große Rockhymnen wie "Music was my first love"!!
Fünf großartige Sänger sind mit dabei:
Nicole Mühle mit den größten Songs der Musicalwelt!
Sie sang mit großem Orchester schon in der verbotenen Stadt/Peking
Myra Maud. Sie singt auf der ganzen Welt und sang sogar schon für Quincy Jones!
Und sie eröffnete im letzten Jahr das MAX AND FREINDS FESTIVAL im Strandsalon mit ihrem eigenen Abend!
Sogar Volkan Baydar, die Originalstimme von Orange Blue ist zu Gast! Er performt hinreißend & energetisch die größten Rockhymnen!
Und der Tenor Daniel Szeili. Er ist vielen Lübeckern noch vom Theater Lübeck in bester Erinnerung. Er gastiert mittlerweile in ganz Europa und durfte zwischenzeitlich "als Deutscher" sogar zum 200. Geb. von Verdi in Italien singen & präsentiert auch an diesem Abend die Highlights des italienischen Bel Cantos!!
Und natürlich wird unsere Ikone Nathalie Dorra, die seit vielen Jahren mit Udo Lindenberg, Westernhagen und vielen anderen großen Acts auf den größten Bühnen überhaupt zu Hause ist, mit Ihrer Stimmgewalt alle Herzen berühren!!
Begleitet werden diese sensationellen Stimmen von MAX AND FRIENDS in XL Besetzung, mit Bläsersatz & Streichquartett insgesamt 17 Mann on stage, und sind so das MAX AND FRIENDS ORCHESTRA!
---
Datum: 05.06.2021, 19 Uhr
Einlass: 18:00 Uhr
Ticketpreise: Rang 25 €, Innenraum 30 € (Preise zzgl. Vorverkaufsgebühren)